RHODIOLA Alive Advantages
Proven physical & mental stress support

---
Expertly formulated, Living Alchemy RHODIOLA Alive is a fermented whole herb solution to aid in mental and physical fatigue by increasing stamina and energy.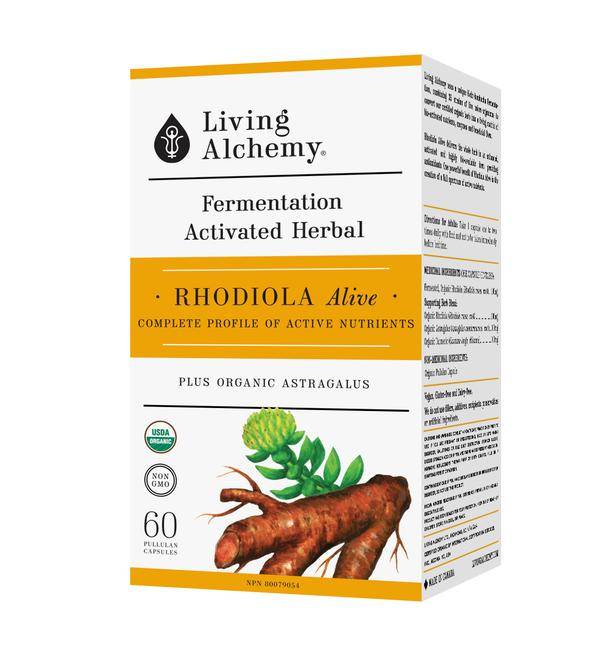 Living Alchemy uses the ancient art of fermentation to activate Rhodiola into its superior form for RHODIOLA Alive. We use the finest organic Rhodiola for our unique living culture fermentation process Symbio®, a traditional Kefir-Kombucha fermentation with diverse strains of live micro-organisms, combined with organic astragalus specifically for those requiring an energy and immune boost. This unique activation delivers the complete synergy of the whole herb within a living food matrix for exceptional absorption and effectiveness.
Rhodiola has a long tradition for being a herb to support both physical and mental stamina. Even Olympic athletes and astronauts have used Rhodiola for its supportive anti-stress and anti-fatigue effects. In this modern life of constant, energy-depleting stress, Rhodiola provides the perfect support.
The whole is greater than the sum of its part

Such plants should never be given as isolated nutrients or processed unnaturally; as the holistic intention of the herb is lost. Fermentation takes the whole of the plant and creates a superior form, bursting with life and vitality.
Only a natural fermentation process can produce herbs and foods in this perfect state where your body recognizes and utilizes the thousands of activated nutrients to deeply nourish itself and achieve balance in our stressful environments.
When our whole root Rhodiola is long fermented, the full spectrum of nutrients are activated and the effects become far greater. Our fermented, organic Rhodiola has been the subject of some impressive studies including a 300% greater effect than the control after 7 days on both stress and anxiety. As well as, our fermented Rhodiola increased stamina under stress and increased lactate, a fuel used by the body during exercise to decrease fatigue.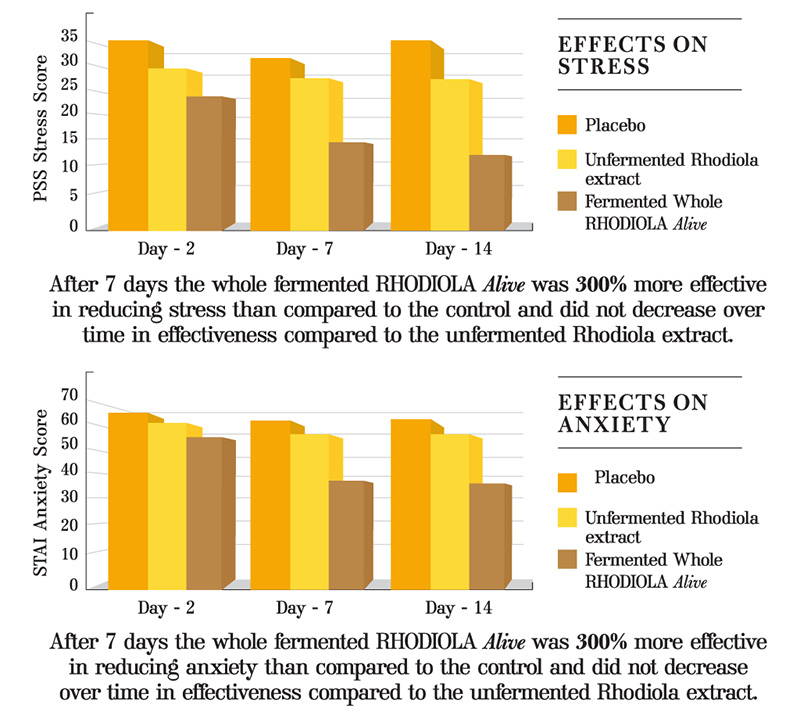 100% more effective in reducing fatigue.

Significant increases in lactate and glycogen levels.

Increases in key compounds such as Superoxide Dismutase (SOD) and Glutathione (GSH-PX) to prevent oxidative damage.

Reduced levels of Malondialdehyde (MDA) a key marker for oxidative stress and tissue damage.
Increases Stamina & Energy

Increases Glycogen for Improved Athletic Performance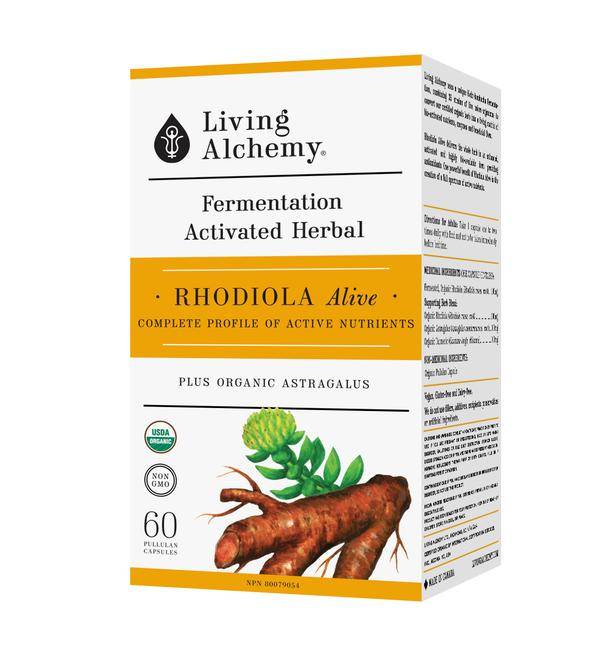 Increases Stamina & Energy

Improves Recovery Time from Workout
Increases Glycogen for Improved Athletic Performance

Provides A Complete Profile of Fermentation Activated Nutrients

Improves Recovery Time from Workout

Provides A Complete Profile of Fermentation Activated Nutrients