TURMERIC Alive® Advantages
---
Our top award-winning, best-seller, most-customers satisfied with TURMERIC Alive®. Expertly formulated, Living Alchemy TURMERIC Alive® is a fermented whole herb solution to calm inflammation, promote joint health and mobility, beneficial for heart and brain health and enhances immunity.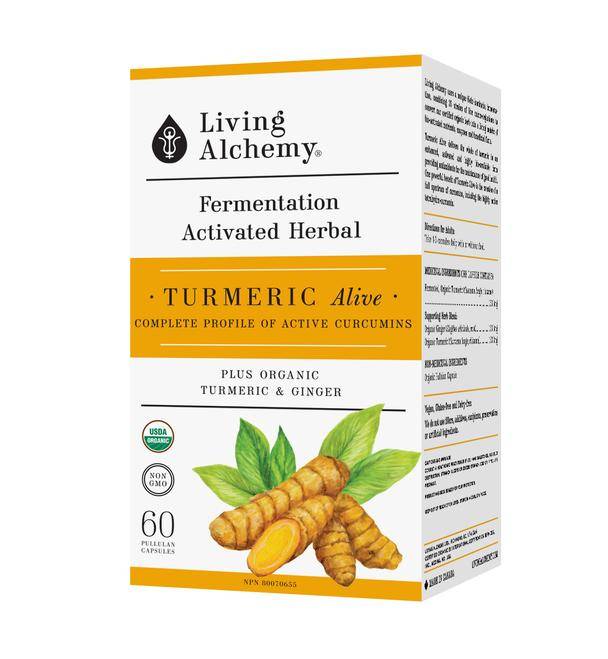 Living Alchemy uses the ancient art of fermentation to activate whole turmeric into its superior form for TURMERIC Alive®. We use the finest organic turmeric for our unique living culture fermentation process Symbio®, a traditional Kefir-Kombucha fermentation with diverse strains of live micro-organisms, combined with organic ginger, specifically to provide a healthy inflammatory response. This unique activation delivers the complete synergy of the whole herb within a living food matrix for exceptional absorption and effectiveness.
The whole is greater than the sum of its part

Such plants should never be given as isolated nutrients or processed unnaturally; as the holistic intention of the herb is lost. Fermentation takes the whole of the plant and creates a superior form, bursting with life and vitality.
Only a natural fermentation process can produce herbs and foods in this perfect state where your body recognizes and utilizes the thousands of activated nutrients to deeply nourish itself and achieve balance in our stressful environments.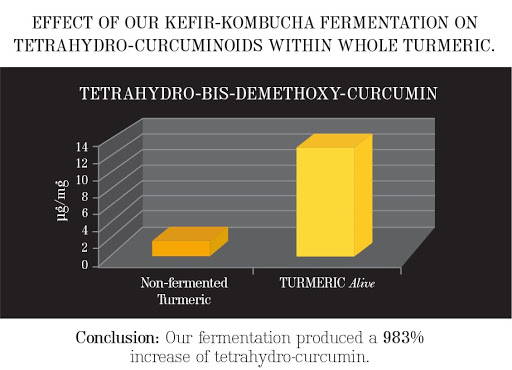 Our Symbio® Kefir-Kombucha fermentation enhances many important nutrients in whole root turmeric including many highly active anti-inflammatory compounds. One type of compound created through our fermentation is tetrahydro-curcumin, which we call "white gold." This highly active compound has been shown to have complementary actions to other curcumins within whole turmeric especially for anti-inflammatory and antioxidant actions.
Non-fermented turmeric is poorly absorbed and can become unstable as an antioxidant. When fermented, turmeric is transformed, shedding its yellow pigment bond and attaching a water-soluble bond to provide superior bioavailability.
Our unique fermentation activates whole turmeric that becomes more water soluble, bioavailable and more nutrient dense with all important cofactors. No black pepper. No nanoparticles. It's fermented whole food after all – nothing needs to be added. Only in its natural, whole, fermented state can turmeric provide the fully activated synergy of nature.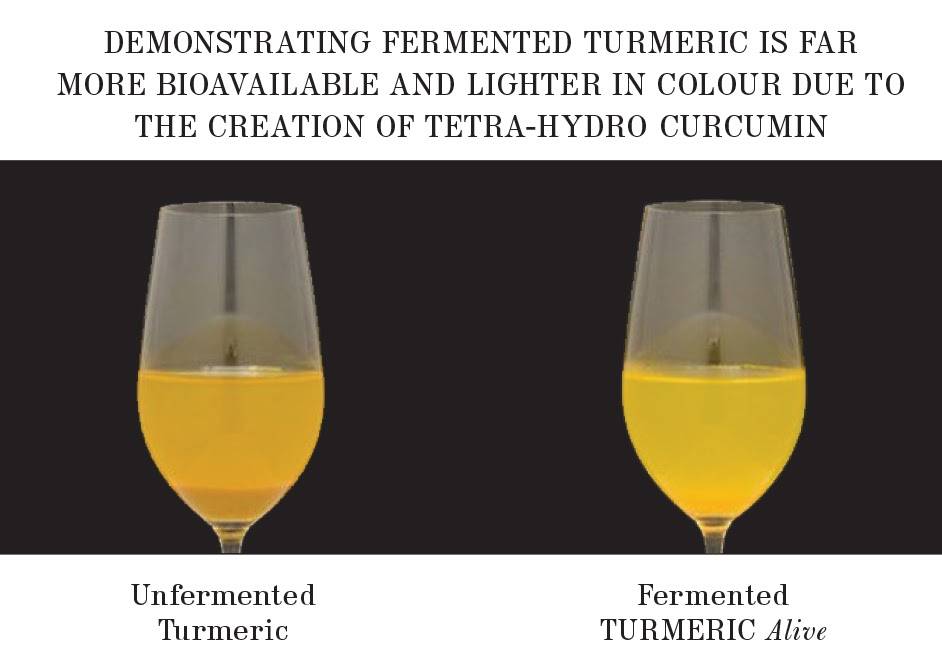 Our Kefir-Kombucha fermented turmeric and ginger produced significantly greater secretion of Interleukin 10 (IL-10), a signal in the body that decreases inflammation.

Our Kefir-Kombucha fermented turmeric and ginger significantly reduced secretions of Tumor Necrosis Factor Alpha (TNFα) and Interleukin 6 (IL-6), a signal in the body that increases inflammation.
Greater bioavailability and anti-inflammatory properties.
Supports a Healthy Inflammatory Response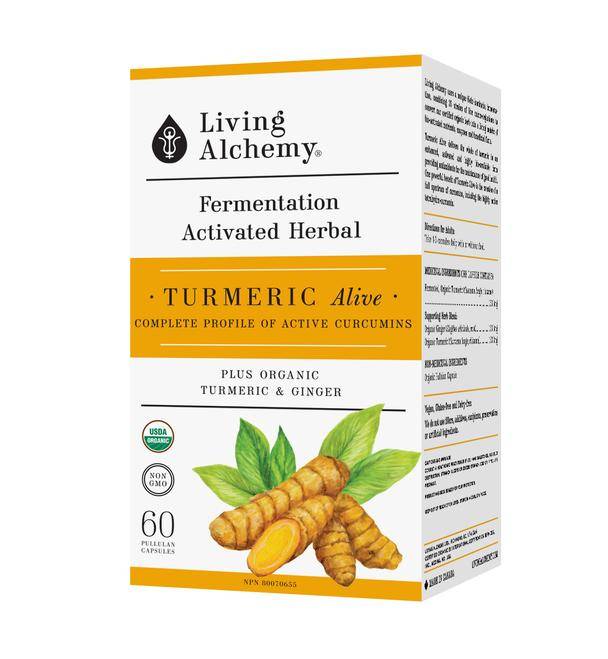 983% More Tetrahydro-Curcumin to enhance Immune Support
Full Spectrum of Active Curcumins from Whole Turmeric

Provides Superior Bioavailabilty of Curcumins
Full Spectrum of Active Curcumins from Whole Turmeric

Provides Superior Bioavailabilty of Curcumins